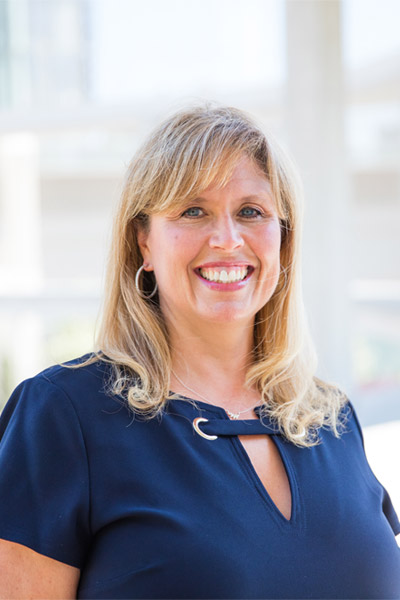 Theresa Ott Boisseau has been around real estate all her life because both her parents were realtors, so it runs in the family. In addition to a Broker's License, Theresa is a Certified International Property Specialist. This designation is awarded by the National Association of Realtors (NAR) and puts Theresa in an elite group of agents who network globally for their buyers and sellers alike.
As co-owner of The Ott Group (formerly The Relogroup that was started by her mom over 25 years ago) with her brother Chris, Theresa works hand-in-hand with relocation companies to seamlessly help move new or relocating employees and executives in and out of the Austin area. The team works with well-known companies including but not limited to Apple, Google, Dell, IBM, 3M, Samsung,Tesla and Amazon.
Theresa is a graduate of the University of Texas and has lived in the Austin area since 1985. Combining her strong knowledge of the history of Austin and skills as a former teacher, Theresa has the perfect skill set to help clients navigate the numerous Austin area neighborhoods to find the perfect home to fit lifestyle. As a former teacher, Theresa knows it is extremely important to educate her clients about Austin's real estate market, trends, and the process of buying and selling their home. The result is that her clients can feel great about making the best possible decision for such a major purchase and life event.
(The Legacy of Bob & Liz Ott, 2 of the first 50 agents at Keller Williams Realty, is a combined Billion Dollars worth of transactions over 30+ years of business. Ms. Boisseau continues this legacy and is a licensed Realtor for almost 20 years and Broker Associate at Keller Williams Realty, )
Previously, Ms. Boisseau was a French teacher for 8 years, speaks French fluently, and has traveled extensively in Europe, South America, and North America.
Theresa clearly has a love for Austin and the local real estate market. It is this expertise that has successfully helped all of her loyal and repeat clients settle into a life worth living in Austin!
Theresa and the rest of the Ott Group were amazing. As a first-time home buyer moving to a new city in the middle of a pandemic, the prospect of buying a house was daunting for me to say the least. But Theresa helped me along every step of the way, from the initial search, to going under contract, to the final contract. She was a great advocate in making sure I was getting the best deal possible. I can't wait to live in my new home, and would recommend Theresa et al. to anyone!
Daniel T.
We loved working with Theresa. Her manner was always professional, friendly, and well-informed, no matter how unprofessional, grumpy, and misguided, we were. We would not have found our current home without her encouragement, and good nature. I am very grateful we had the opportunity to work with her (again -- she helped us sell our home three years ago). I really like her personally and respect her expertise and knowledge.
Meryl B.
Theresa Boisseau was our realtor when we moved to Austin and were looking for homes in Steiner. She was extremely patient and resourceful and spent many days showing us homes. She wisely steered us away from some homes we liked, but she felt were overpriced and ended up showing us the home of our dreams that she negotiated into our price range. We highly recommend Theresa to anyone looking for a home in Austin.
Nicole B.
I worked with Theresa Boisseau a couple of years ago and I would not consider working with anyone else with my next home purchase. She was knowledgeable, always prompt, and responded quickly when I had questions. She was also a very calming force during this rather stressful process. Can't recommend her enough!
Allison R.
We were matched with Theresa as part of our work relocation from Minneapolis to Austin when buying our house. We would 100% recommend our experience working with Theresa and The Ott Group at Keller Williams. Theresa and her team pride themselves on being a local family-owned and operated company. That factor added to the overall excellent customer service and experience we had. One of the benefits of working with a well-established and tenured team is the connections within the entire industry which is needed through the entire buying process. Theresa worked endless hours on requests and problem solved everything we threw her way. It never felt like she was trying to close the deal early or push anything on us. She was always looking out for our best interest, on our own time. We truly felt like we had a partner and someone on our team that had our back. As a family with two small toddlers, she worked with patience and grace alongside our busy lifestyle and odd hours. Without exaggeration, she became part of the family throughout the process.
Jenna T.
We used the OTT group with Keller Williams Realty for the sale of our old home this year. Selling and buying a home is one of the most stressful times in a persons life, but not this time. Our home sold within a month and any hiccups that occurred were handled without putting the stress on us. Our realtor Ms. Theresa Boisseau was knowledgeable, flexible, understanding, and patient during the entire process. Not only would I use them again, I recommend them to everyone I know looking to buy or sell.
Suinta T.
I worked with Theresa Boisseau and Bailey Breaux to relocate to Austin. Since I was out of state, we used Zoom and email a lot, but when I visited to look at houses Theresa and Bailey were super helpful. We viewed a bunch of houses and their input and experience was invaluable. Everything was prompt and organized, from our initial contact through closing. If I move again in the Austin area, I'd definitely work with them again!
Eric R.
We have worked with Theresa twice now to purchase properties in the Austin area. She was thoroughly professional, patient, and transparent throughout the buying process. She has lived in Austin for a long time so she knows the city of Austin and the surrounding areas very well. We have referred Theresa to all our friends and will continue to do so.
Sarith S.
Theresa and Kellyn are an absolute Dream Team! They helped us through every step of the process when we decided to sell our condo downtown by Zilker Park. From staging to photographing, pricing, and gathering comps, arranging cleaners and showings, and then helping us to determine which offer to take when multiple offers appeared at the same time they were with us every step of the way. They made the process SO easy. And they didn't desert us once the unit was sold! Our family had already needed to move cross country, so Theresa showed up and stayed on-site while the movers packed our place. Like I said: top-notch from start to finish. And the cherry on top is that Theresa is so personable, you will enjoy every minute that you are lucky enough to spend with her. Can't recommend her highly enough.
Melissa C.
We had an amazing experience working with Theresa and Kellyn. We moved from Atlanta to Georgetown smack-dab in the middle of the pandemic, and Theresa was super gracious about meeting up with our local family members and showing us different houses via FaceTime. When we finally settled on a home, it turns out that Theresa was the buyer's agent for a house down the street the year before - so she was able to introduce us to our new neighbors. We can't recommend this dream team highly enough!
Carey S.