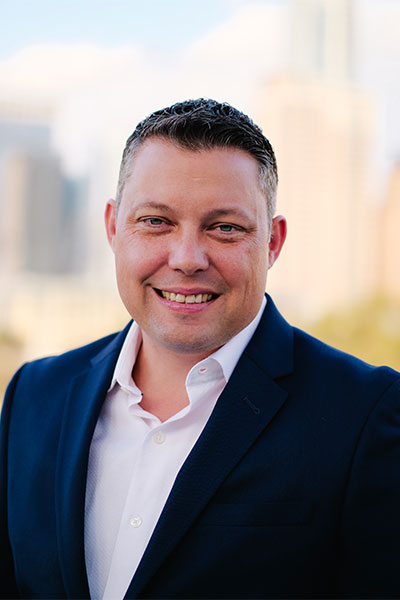 Matt began his career in 2003 in Retail Management with Office Depot after graduating from Florida Atlantic University with a major in Business Management and a minor in Marketing. When his first son was born in 2007 Matt became a full-time, stay-at-home father. In 2013, after many years of investing in both personal and investment real estate, Matt obtained his South Carolina real estate license and specialized in representing buyers and sellers on Lake Keowee.
In 2016, Matt's wife took a new position with a company based in Austin. First, as an Ott Group client, Matt transitioned into a team member after getting his Texas license and now not only focuses on Luxury Real Estate as a Certified Luxury Home Marketing SpecialistTM, he also specializes in corporate relocations. Having been relocated multiple times for his wife's career as a buyer and seller, Matt brings a unique prospective and deep insight into the special challenges of corporate relocation.
Matt is a firm believer that every client deserves the absolute best service and experience from their agent and he strives to make that true for all of his clients.
When he's not working, you'll find him out on Lake Travis, traveling, cooking, and spending time with friends and family.
Matt's insight and experience was on point and extremely helpful when listing our home. It was like he had a crystal ball and could predict how the transaction would proceed. I would not hesitate to work with Matt again or refer him to a friend that needed realtor help.
J.B.
Matt was a lot of fun to work with along with a great professional. Very timely communication is one of his main strengths, which every customer wants and expects. I would highly recommend Matt to sell your home, I was very satisfied with the process and the results.
T.M.
We are so very grateful that we were connected to Matt when we made our move to Austin. Matt's professionalism, communication, and commitment to making our home search as effective and efficient as possible was very much appreciated, especially since we were buying our home "virtually". Matt took the time to walk through listings via video chat and shared his unbiased observations, allowing us to effortlessly find and buy a home without setting foot in the house.
K.M.
To say Matthew went above and beyond as our buying agent is an absolute understatement. He's extremely knowledgeable and his guidance through the entire process was critical to us making the best decision on the home that met our needs. We couldn't be happier with the home Matthew helped us find. He's also extremely responsive, a great communicator, and is someone who looks out for the best interests of his clients. We feel as though we made a friend, not a business connection. He is always willing to jump in and help even after the sale! He is in a class of his own and exemplifies what excellence looks like in a real estate agent. We will recommend him to anyone we know looking for an attentive & knowledgeable agent. Even with all this praise, it fails to capture what an absolute asset he is to his profession.
S.O.
Matt is an expert in his field and we were lucky to have him as our Realtor when we made our move to Austin. We can't thank you enough for all the hard work, dedication and the time Matt spent in searching for our dream home. He offered excellent advice, answered every question, and helped us make informed decisions. We knew very little about the home buying process as it was our first time, but Matt helped and guided us through the entire process.
C.A.
My husband and I relocated from California and we can not imagine what the process would have been like without Matt Ritcher, our real estate agent. Matt was instrumental not just for finding our home, but for feeling at home in a new state. He was able to guide us patiently through the process of first time owning a house, learn our needs and help us prioritize. He was patient with the many listings we shared, being super responsive, always surprising us with the amount of information he knew, and was able to teach us during the walk-throughs. He made the process fun, less stressful, and easy, even finding a home well below our budget. Matt goes into the details of everything and always goes far and beyond. For example, he changed all the batteries in our smoke detectors to make sure our family was set upright. It was our privilege and pleasure to have Matt guide us and we recommend him with our eyes closed.
Ali & Robert A.
Matt is a gentleman. Every house Matt showed us had something special. He also pointed out all the pros and cons in the house we visited. Has great knowledge on locality, builders, materials used in construction etc, etc. I recommend Matt to anyone looking to buy a house.
Laxine S.