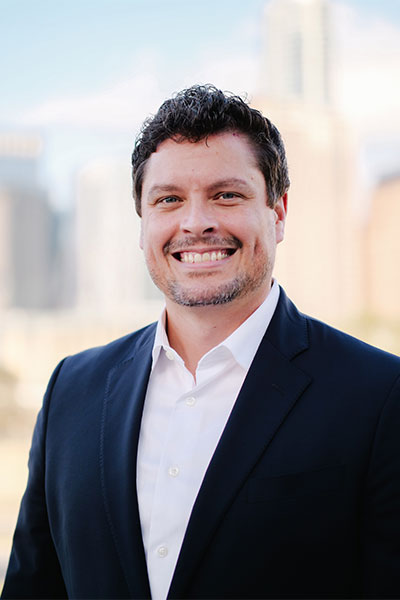 Although Chris wasn't born in Austin, he got here as fast as he could. Raised in the Austin area since elementary school, Chris has had a unique perspective to the ever evolving local Austin real estate market. His passion for real estate, people and the city of Austin has given Chris the edge on knowing this city inside and out. He has watched this eclectic town grow from the "Little Big City" that it used to be, into the "Keep Austin Weird" bustling metropolis it is today. Chris has been in the Austin real estate business for almost 20 years.
As the youngest of 8 children, Chris understands the meaning of hard work, self-sacrifice, teamwork and the value of individual attention. Chris' ability to put others' needs first has also developed from his strong convictions. Chris believes that, no matter your occupation, everyone understands the importance of getting the best value for your dollar, and he strives to ensure that each client receives the benefit of all his market knowledge.
Chris has sold roughly $200 million over this time in real estate and continues to have record breaking years. This can be attributed to the fact that he treats each client like family and takes the time to listen to them and be proactive in providing the best solution for his clients by anticipating their needs. With this extensive customer service experience in the sales industry, he understands the importance of developing and maintaining relationships.
Family is the most important thing to Chris. Along with being co-owner of the Ott Group with one of his sisters and that was started by their mother, Chris loves spending time with his wife, son, daughter and extended family. He has many interests and hobbies including love of cars, tinkering around the house on projects just like his father used to do and coaching his son's basketball team or sitting on the sidelines watching him play.
My company connected us with Chris Ott from Relogroup for our move from Chicago to Austin. Chris was simply spectacular to work with! He took the time to understand our needs, understand our price point, and worked his tail off to find our amazing home. And our boys absolutely love Mr. Ott! Once we settled in on our home he gave up a full day of his time to tour us around Austin. Cannot say enough about how much we enjoyed our experience with him and his team. If you are considering buying or selling you HAVE to contact him!
Andy H.
The team at the Ott Group, and in particular Chris and Olivia, were wonderful to work with, they somehow knew what we wanted before we even knew and found the perfect home for us! We came from out of state with no knowledge of the area and kept them busy with a last-minute target location change but they delivered and never got frustrated or gave up on us. They far exceeded our expectations and they definitely know their stuff! I would recommend them to any of our friends and family without hesitation.
Kristen G.
We LOVED working with Chris Ott! We were first-time home buyers and he walked us through the process and made everything go so smoothly for us real estate babies! He made sure we got the best deal, and that the house was in great condition for us to move in. Chris is super knowledgeable and has been in the real estate business for a LONG time . . practically born into it, so we felt confident in his guidance. He also has tons of resources and connections which made getting things looked at and fixed super easy and smooth. We would HIGHLY recommend Chris Ott!
Austin & Rochelle S.
Chris and his team provided the best service possible. They went above and beyond in everyway.
Jonathan K.
Last fall, Chris Ott and his team sold our house in three days, over asking price with a bidding war at the end! This was a complicated relocation with many factors. He found services to get our house into shape and did the reams of paperwork a relocation company requires to sell a house. He took selling our house seriously and came up with a savvy marketing plan to get our home sold. We would use Chris Ott and his team to find us a new house in a heartbeat.
Lizzie G.